Courses in the Nonprofit Administration Program are taught by full-time faculty and/or practitioners in the field.
Dani A. Robbins
Director, Nonprofit Administration
nonprofit@jcu.edu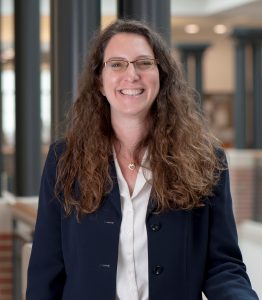 Dani Robbins is the director of Nonprofit Administration programs at John Carroll University. After serving in the nonprofit arena for over 25 years, primarily in executive leadership positions for social justice agencies, she has ascended to what she considers her dream job and the continuation of her life's work: advancing social justice. Her education includes a M.A. in Public Administration from the Levin College of Urban Affairs at Cleveland State University, and a B.A. from Kent State University. She is also a graduate of Leadership Akron Class 22, and the Boys & Girls Clubs of America's Advanced Leadership Program, offered in conjunction with the Ross School of Business at the University of Michigan.
Robbins founded and still leads Non Profit Evolution, a consulting firm dedicated to building capacity, board governance, and organizational development in small to mid-size nonprofit organizations. She has served as the chief executive of two domestic violence shelters and rape crisis centers, as well as two Boys & Girls Clubs. She introduced the Women's Coalition – the prelude to the Women's Center – at Case Western Reserve University.
Dani is also a speaker and trainer, and a former instructor at the John Glenn College of Public Affairs at The Ohio State University and fundraising coach for Network for Good. Robbins is the author of a blog on issues relating to nonprofit organizations, and the co-author, with Maureen Metcalf, of the Innovative Leadership Workbook for Nonprofit Executives.
Courses: Overview of Nonprofit Administration, Board and Executive Leadership, Cultural Diversity, Leadership and Management
Prof. Christina DeVoss, PhD
Assistant Professor, Tim Russert Department of Communication and Theatre
Dr. DeVoss brings a blend of industry and academic experience to her teaching and research at John Carroll University. She has worked in public relations and marketing as an editor and copywriter, with a focus on nonprofit and mission-driven brands.
Broadly, her research explores how features of new media technology affect users, and how traditional communication concepts translate to the digital environment.
She holds a bachelor's degree from Washington University in St. Louis; a master's degree from the William Allen White School of Journalism & Mass Communications at the University of Kansas, and a doctoral degree from the University of Connecticut. Additionally, she holds a graduate certificate in nonprofit management from Washington University in St. Louis.
Courses: Nonprofit Marketing
Prof. Robert Giacolone, PhD
Raymond and Eleanor Smiley Chair in Business Ethics, Professor of Management and Human Resources, Boler College of Business


For more information about Dr. Giacolone, click here.
Courses: Business Ethics and Corporate Social Responsibility
Prof. Walter Simmons, PhD
Associate Dean, Boler College of Business, Professor of Economics

For more information about Dr. Simmons, click here.
Courses: Economics for Nonprofit Managers
Prof. Sally Wertheim, PhD
Dean Emeritus & Professor Emeritus, Education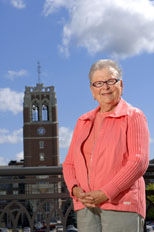 Dr. Wertheim received her doctorate in the History of Education at Case Western Reserve University and has done research and published in refereed journals in her field. She has been active in professional organizations in teacher education on the local, state and national levels.  She served as President of the Ohio Association of Colleges for Teacher Education and the Board of the American Association of Colleges for Teacher Education, where she chaired a major task force on Professional Development, served on the Ohio Teacher Education and Certification Advisory Commission which developed the teacher certification standards and has chaired numerous on-site college evaluation teams for the Ohio Department of Education.
At John Carroll University, Dr. Wertheim served as the Consultant on Special Projects to the Academic Vice President, Director of Planning and Assessment, and Dean of the Graduate School. She served as Academic Vice President during an interim period and chaired the Education Department for nine years and has been affiliated with John Carroll University since 1968 where she began as a part-time lecturer.
Dr. Wertheim teaches in the areas of Foundations of Education, multicultural education, Nonprofit Administration and human relations. She has offered many workshops on such topics as effective meetings, strategic planning and conflict resolution at John Carroll University, the Gestalt Institute of Cleveland and at many schools and not-for-profit organizations.
Additional Information
Dr. Wertheim is or has been active on many community boards such as the County Board of Mental Health, the Center for Families and Children, Bellefaire/JCB, Jewish Family Service Association (past president), Montefiore Home for the Aged (past president), the National Conference, United Way Services, Jewish Community Federation (past president), Facing History, Milestones, The Mt. Sinai Medical Center, the Mt. Sinai Health Care Foundation, The Mandel Foundation, and others.
Prof. Thomas Babb, M.A., C.P.A.
Chief Financial Officer, Constellation Schools LLC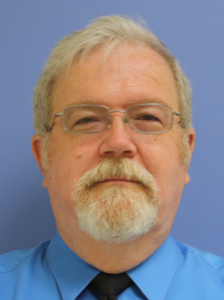 Thomas F. Babb has served as the Chief Financial Officer and Treasurer of Constellation Schools since its' inception in 1998. He has 38 years of experience as Chief Financial Officer, auditor and contract administrator in the public, not-for-profit and private sectors. Prior to joining Constellation Schools on a full time basis he served as Chief Financial Officer of the West Geauga Local School District, the Cleveland San Jose Ballet, and the Cleveland Housing Network. He also served as the fiscal officer for the Cleveland Empowerment Zone and as Controller for Help Foundation.
Before working in the not-for-profit and government sectors, he was an auditor and contract administrator for The Standard Oil Company of Ohio (Sohio). He has successfully managed the financial activities of each organization he has worked with and has 31 years of experience in managing the financial portions of federal grants awarded by the U.S. Departments of Education, Housing and Urban Development, and Energy. Since the fall of 2014, he has been an adjunct instructor at John Carroll University teaching introductory accounting and non-profit accounting to graduate students. He is a Certified Public Accountant and holds a School Treasurer License in Ohio.
Courses: Accounting and Tax Issues for Nonprofit Organizations
Prof. Bob Cahen
Bob Cahen earned an M.A (in 1973) and Ph.D (in 1981) in Political Science from Case Western Reserve University; he earned a B.A in in Political Science from Miami University in 1970.  He currently works as a fundraising consultant for Cahen Consulting and for The Hodge Group.  Past employment includes serving as executive director of The Lakeland Foundation at Lakeland Community College from 2003 to September 2019, when he retired from that position; as chief executive officer of the Jewish Community Center of Cleveland from 1997 to 2993; as assistant director of the Jewish Community Federation of Cleveland from 1987 to 1997; as executive director of the Jewish Vocational Service of Cleveland from 1983 to 1987; and as deputy and then acting executive director for the Council for Economic Opportunities in Greater Cleveland from 1977 to 1983.  Prior to that time, he taught at a number of local colleges including Cuyahoga Community College and Lake Erie College.
Over the years, he's been a frequent presenter at local, state and national conferences and served in a number of volunteer positions with various local, state and national organizations.  He currently serves as president of the Association of Fundraising Professionals-Cleveland Chapter and as chair of AFP-Global's Collegiate Support Committee.
He and his wife, Alice, live in Shaker Heights, Ohio.
Courses: Advanced Fundraising for Nonprofit Administrators
Prof. Adam Dunn, M.Ed
Founder, Cleveland Co-Labs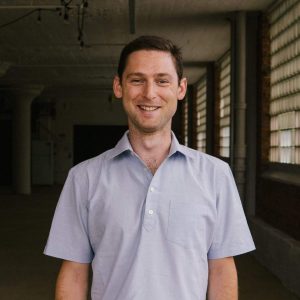 Adam is an educator and community builder having spent the past 9 years creating community in public schools as a teacher, mentor and leader. After teaching across the country he attended the University of Pennsylvania receiving a Masters in Education Policy, returning to Cleveland in 2013. His passion for learning, community development, economic equity and developing empathy through creative means has led him developing change maker communities around Northeast Ohio. He has served as instructor and coordinator for SEA Change, a social enterprise accelerator, the President of the Cleveland chapter of an international leadership initiative of the World Economic Forum and is an alumnus of the Neighborhood Leadership Development Program. Currently Adam is currently developing an impact investment fund directed at the Midwest, to bring capital to socially impactful businesses.
Courses: Social Entrepreneurship
Prof. Laura Hammel, M.A., M.B.A., PhD, Fellow P.R.S.A.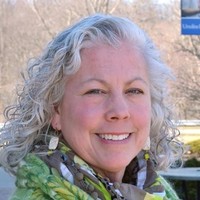 Laura Hammel, MA, MBA, PhD, Fellow PRSA, is a seasoned academician with roots in nonprofit and for profit industries. She has created curriculum for and taught in Ursuline College's Master of Historic Preservation and MBA programs, as well as fulfilling associate professor and administrative duties there as public relations & corporation communications program director and business department chair. Currently Hammel is an associate professor of mass communication & public relations at Notre Dame College. She is a founder of Leg Up for Cleveland's Kids, a new urban equestrian program that harnesses the power of horses to transform the lives of Cleveland's youth, and works with select clients on strategic communication planning projects.
Courses: Professional Communications for Nonprofit Administrators
Prof. Kathryn Hexter, M.C.R.P.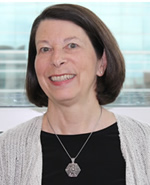 A planner and public policy analyst, Kathryn Wertheim Hexter has over 30 years of experience managing and directing policy studies, program evaluations, research and technical assistance projects in the areas of housing, community and neighborhood development, sustainable development, city and regional planning and civic engagement.  She has worked extensively with federal, state and local governmental, philanthropic and non-profit organizations.  She most recently directed the Center for Community Planning and Development at Cleveland State University's Levin College of Urban Affairs and the Levin College Forum program.
Nationally, she has contributed to research on suburban poverty, distressed suburbs and building the capacity of distressed cities through urban fellowships. She is currently co-editing a book on Equity Planning, forthcoming, from Cornell University Press. Ms. Hexter holds a masters degree in City and Regional Planning from Harvard University and an undergraduate degree from Washington University in St. Louis.
Courses: Public Policy Analysis and Program Evaluation for Nonprofits
Prof. Betsey Kamm, M.B.A., C.F.R.E.
Director of Institutional Advancement, The Nord Center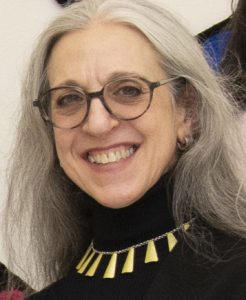 Betsey Kamm, MBA, CFRE is the Director of Institutional Advancement for The Nord Center, a non-profit community mental health agency in Lorain, Ohio where she served from 2007 to 2009 and again from 2012 to the present. Ms. Kamm has also served as the Managing Director of the Hanna Perkins Center for Child Development in Shaker Heights and as the Executive Director of the Cleveland Psychoanalytic Center. Prior to these, she has served as a non-profit administrator in organizations as diverse as two battered women's shelters, a municipal recreation department, a YMCA and two consortia of community mental health agencies. Ms. Kamm has been active as a Board member and Chapter President of the Greater Cleveland Chapter of the Association of Fundraising Professionals. She has served on numerous nonprofit and civic organization boards. She is a graduate of Leadership Lorain County Class of 2013 and is a member of the Lorain Rotary Club. She received her BA in Government from Cornell University and her MBA from Mount Saint Mary's University.
Courses: Fundraising for Nonprofit Administrators
Prof. Earl Pike, B.A.
Executive Director, University Settlement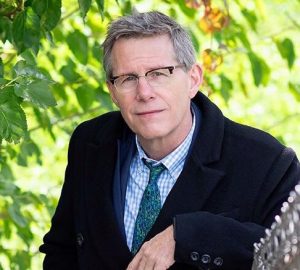 Earl Pike is the Executive Director of University Settlement, a multi-service family support agency in the Broadway-Slavic Village community.  Previously he served for over ten years as a consultant providing services in the areas of strategy; leadership; government, media, and foundation relations; change management; facilitation; organizational assessment and design; advocacy and public policy; research; writing and editing; and community engagement.  Clients included a wide range of organizations and individuals from the nonprofit, government, philanthropy, and private sectors. He also served for nearly a decade as Co-Director of an NIH-funded project on health disparities at Case Western Reserve University.
Pike has been a nonprofit leader for 30 years, most recently serving (11 years) as the CEO at the AIDS Taskforce of Greater Cleveland, then Ohio's oldest HIV/AIDS organization.  Under his leadership the AIDS Taskforce received numerous awards, including the Human Rights Campaign, Cleveland Chapter Equality Award; a Center for Community Solutions Anisfield-Wolf Award; the American Jewish Committee, Cleveland Chapter Isaiah Award; and the Mandel School Nonprofit Innovation Award.
Pike is the recipient of numerous personal awards, including, most recently, the 2011 Eleanor Gerson Award for Social Justice Leadership, from Community Shares of Greater Cleveland; a 2009 Upstander Award from Facing History, Facing Ourselves, for a commitment to social equality and human rights; and the 2008 Homer Wadsworth Award from The Cleveland Foundation, given to a single northeast Ohio individual annually who embodies courage and conviction in innovative leadership.
Pike has published numerous books and articles, including (as co-author) Case Studies in Ethics and HIV Research, reviewed in the Journal of the American Medical Association as an essential contribution to the field, and a number of research articles in peer-reviewed journals.  He is also widely published in creative writing, and is the winner of the Washington Prize for Fiction; the Tamarack Award; the Anna B. Janzen Poetry Award; the Giralt Short Fiction Award; and a Hackney Literary Award.  He is currently under contract through Springer Publishing to complete a textbook on Community-Based Participatory Research (CBPR), to be published in the summer of 2019.
Pike has served as adjunct faculty at the Case Western Mandel School of Applied Social Sciences, and has been a guest lecturer at numerous area colleges.  He serves on four community nonprofit boards, and regularly assists other local nonprofits on a pro bono basis.
Courses: Strategic Decision Making, Capstone
Prof. Brandi Slaughter, J.D.
CEO, Voices for Ohio's Children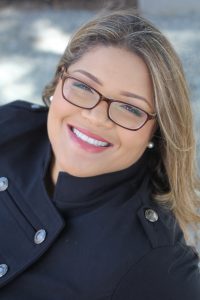 Brandi Slaughter is the CEO of Voices for Ohio's Children, a statewide, nonpartisan advocacy organization, focused on improving the well-being of children in our state. Brandi's work has focused on developing and implementing policy that impacts children and families. At Voices for Ohio's Children, Brandi leads policy reform and system change to maximize the well-being of Ohio's children. As a non-profit leader, she manages Voices to carry out the organization's vision, mission, and strategic plan and sets programming and a policy agenda to achieve positive change for the children and the systems that serve them.
At the outset of her career, Brandi offered direct service to children and families—mainly those considered high-risk youth at several Columbus settlement houses.  As an advocate for policy change, she has supported the development of state and federal policy which has impacted people with disabilities, the health of Ohioans, and children and families. She worked in the Ohio Senate as a legislative staffer and has lobbied on behalf of the Ohio Department of Health and the Ohio Rehabilitation Services Commission.  While at Public Children Services of Ohio, she advocated for reforms to the foster care system.  She has coordinated and mobilized advocates from across the country to pass a bi-cameral, bi-partisan federal bill, "Fostering Connections to Success Act" to support children in foster care. It is in these capacities that she has been instrumental in developing and implementing public policy at both the state and federal levels.
Brandi holds a Bachelor of Arts in Political Science from Morgan State University and a Juris Doctor from Capital University Law School with a concentration in Child and Family Law.
Courses: Advocacy for Nonprofit Organizations