TUOHY LECTURE SERIES - FALL 2016 Tuesday, October 18, 2016 7:30 p.m. Donahue Auditorium, Dolan Center for Science & Technology John Carroll University
VIOLENCE AND THE SACRED SCRIPTURES OF JUDAISM, CHRISTIANITY, AND ISLAM: HOW DO WE HANDLE THAT LEGACY?
presented by John R. Spencer, Ph.D.
Anyone who has spent some time looking at the scriptures of these three monotheistic religions must soon realize that there is considerable violence in each of them. On the other hand, each religion contains calls for peace, justice, and the love of humanity. We will first explore some examples of this violence and non-violence. We then must ponder some questions. How does one balance these conflicting perspectives? How do contemporary acts of violence connect with this heritage? How does the monotheism of each religion play into this tension between violence and peace? And how does one move beyond the tension?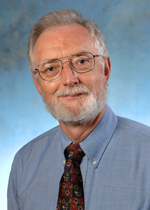 JOHN R. SPENCER is Professor Emeritus of Biblical Studies in the Department of Theology and Religious Studies at John Carroll University. He also served as Director of the Honors Program, Chair of the Department, and taught in the Peace, Justice, and Human Rights Program. He participated in several archaeological excavations, and has served on the Boards of the American Schools of Oriental Research, the W. F. Albright Institute of Archaeological Research, and the Cleveland Archaeological Society. He has published several articles and books in the fields of biblical studies and archaeology. His most recent publication is an article on the Levites for Oxford Bibliography, and he is currently working on the publication of animal figurines from Tell el-Hesi. He has received numerous awards, including an NEH grant, a USIA fellowship, several other research fellowships, and the Distinguished Faculty Award from John Carroll University. The event is free and open to the public!