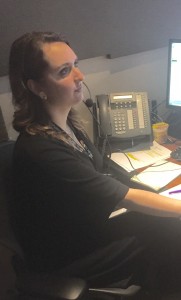 Ashley Bastock is the 2015 NBC/JCU "Meet the Press" Fellowship recipient.
Ashley Bastock, a 2015 John Carroll graduate, agreed to share an overview of her experience working  at NBC's  "Meet the Press"  this fall. Her account is below. 
One year out from the 2016 presidential election, I find myself just three months in as the 2015-16
NBC/JCU "Meet the Press" Fellowship
recipient. The amount I've learned in the past three months has been extraordinary, and I have no doubt that my time spent at John Carroll sufficiently prepared me for this position. The critical thinking and communication skills I've learned while at John Carroll are incredibly important to my daily job responsibilities. Whether I am helping with research, communicating with our panelists, or working with our producers and graphics teams, these skills are invaluable to me. It still is surreal to see the results of my work on Sunday mornings and to know I am making contributions to such a prestigious television program with a history so closely associated with the legacy of John Carroll alumnus
Tim Russert
. I have wanted this fellowship since I arrived at JCU as a freshman, and I truly still cannot believe I work here.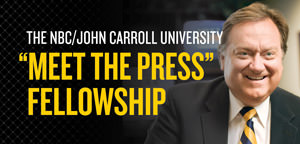 This election cycle is an incredibly exciting time to be working in the news industry, and it is thoroughly unpredictable. I am so grateful for the opportunity that John Carroll and "Meet the Press" have given me. I could not ask for a better start to my career in the field of journalism.
I look forward to sharing more about my experiences in the coming months, and hope you all are enjoying the election season as much as I am!