Dr. Martina Moore and Dr. Paula Britton presenting "Selfies: The Relationship Between Young Adults and the Desire To Feel Liked". Not pictured: Vicki Giegerich and Stacey Litam On April 1, 2016, Dr. Martina Moore, Dr. Paula Britton, Dr. Cecile Brennan, and JCU Alumni/ Kent State University doctoral candidates Vicki Giegerich and Stacey Litam presented at the American Counseling Association Conference & Expo in Montreal, QC, Canada. The conference took place at the Montreal Convention Center and was in partnership with the Canadian Counseling and Psychotherapy Association (CCPA). At the conference, Litam, Britton, Giegerich, and Moore presented research concerning the relationship between young adults and the desire to feel liked. The poster's abstract is as follows:
"According to the Pew Research Center (2014), 74% of adults online use social networking sites, with young adults between the age of 18 to 29 representing the vast majority. Although research has begun to explore the effects of social networking sites on the wellbeing of young adults, virtually no research exists that explores "Selfie" behavior, or the act of posting a self-photographed picture of oneself on a social media site. (Kim, 2014; Michikyan, Subrahmanyam, & Dennis, 2014). This poster presentation reviews the existing research on the effects of social media on young adults and offers the present research findings.

The authors' study explored the purpose and impact of "Selfie" posting behavior in young adults. The findings of this research are consistent with research conducted by Lee (2014), in which a positive relationship was found between Facebook use intensity and social comparison.  Additionally, the authors' research points to the importance of positive self representation among young adults on social media. Finally, our findings may supplement results from Meier & Gray (2014) in which a relationship between photo activity on Facebook and greater thin ideal internalization and self-objectification was found. Implications for clinical and school counselors are also identified" (Litam, Britton, Biegerich, and Moore, 2014).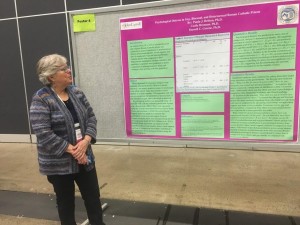 Dr. Cecile Brennan presenting "Psychological Distress in Gay, Bisexual, and Heterosexual Roman Catholic Priests". Not pictured: Dr. Paula Britton Additonally, Britton and Brennan presented research concerning psychological distress in gay, bisexual, and heterosexual Roman Catholic priests. The poster's introduction section is as follows:
"An online survey (N = 103) of secular/diocesan and religious Roman Catholic priests was  conducted to assess contributions to psychological  distress from sexual identity, social support, and  fear of compassion. Gay and bisexual Roman  Catholic priests were compared to their  heterosexual counterparts on these variables, and  qualitative responses were gathered. to assist  counselors in defining treatment needs and  strategies when working with this population" (Greene, Brennan, and Britton, 2015).
The JCU counseling community would like to celebrate the academic and professional research achievements of Dr. Martina Moore, Dr. Paula Britton, Dr. Cecile Brennan, Vicki Giegerich and Stacey Litam. By, Samantha Arrowsmith