Gurnit Chima,  the winner of  Rev. Dr. Valentino Lassiter
"Continuing the Dream" award
 will hold a workshop entitled
"Embrace, not disgrace!"
 addressing how stereotypes evolve over time and our means of dispelling them. The workshop will take place on 
Monday, February 22, 2016, 3:30 - 5:00 p.m.
in the O'Connell Reading Room located in the Dolan Center for Science and Technology. Reception will follow after the workshop. Refreshments will be provided. No registration required! On Tuesday evening, January 26 in the Dolan Auditorium,
Gurnit Chima
, a freshman Psychology major at John Carroll University officially received the inaugural Rev. Dr. Valentino Lassiter
"Continuing the Dream" award
 at the Annual Dr. Martin Luther King, Jr. Celebration. The award honors a JCU student who is continuing the dream shared by the Rev. Drs. Valentino Lassiter and Martin Luther King, Jr. The dream is equality and harmony across racial, ethnic, and religious boundaries while working to foster a nation united in freedom and harmony, with each person being treated with justice and respect. The Annual Dr. Martin Luther King, Jr. Celebration featured Arun Gandhi (grandson of Mohandas Gandhi) who shared his reflections on the personal and historical legacy of his grandfather, by delivering a message of integrity, social harmony, and nonviolence.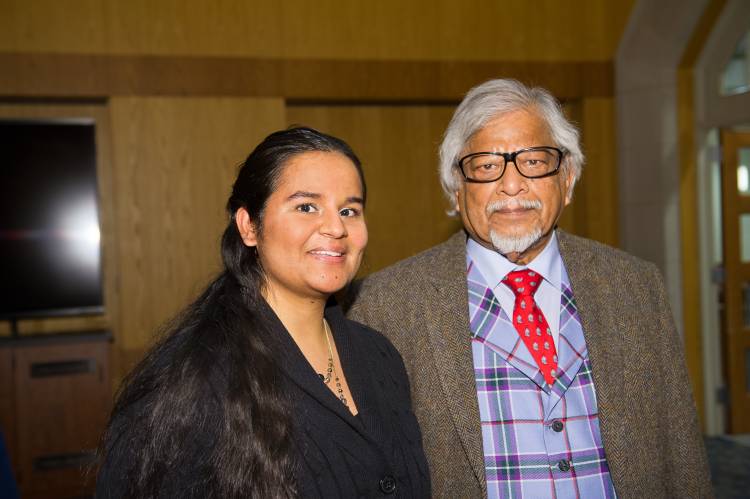 Gurnit Chima and Arun Gandhi (Mahatma Gandhi's grandson) at John Carroll University. Gurnit's winning essay can be read
here
. //