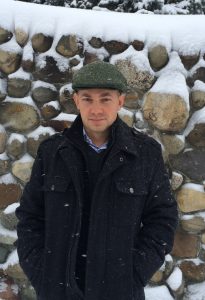 Novelist Kevin P. Keating, who is a lecturer in John Carroll University's
Department of English,
 has been named the 2018 John E. Nance Adult Writer-in-Residence at Thurber  House. Keating will reside for four weeks at the historic home of author, humorist, and
New Yorker
cartoonist James Thurber. Keating is the author of two novels:
The Natural Order of Things
(2014), which was a finalist for the
Los Angeles Times
Book Prize for a first work of fiction, and
The Captive Condition
(2015). He has also penned many short stories which have appeared in a wide array of literary journals. After working as a boilermaker in Ohio's steel mills, Keating became a professor of English. "Being named the Nance Adult Writer-In-Residence is an absolute honor," Keating said. "I'm grateful to be associated with two legendary figures in Ohio literature - James Thurber and John E. Nance." His residency begins later this summer. Keating is nearing completion of his third novel, tentatively titled, 
In the
Secret Parts of Fortune
. He will continue to work on that project and begin drafting his fourth novel during his Nance residency.
The Nance Writer-In-Residence was created in 2012 by Sally Crane Cox, who chairs the Nance Committee at Thurber House, to honor her late husband, John Nance, who was a critically acclaimed photojournalist, author, and Associated Press Bureau Chief in Manila.
Thurber House was established in 1984, in Columbus, Ohio, to celebrate the written word for the education and entertainment of the broadest possible audience and continue the legacy of James Thurber.