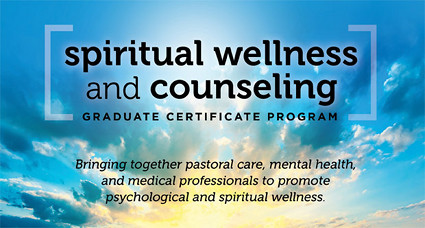 Applications are being accepted for John Carroll University's new
spiritual wellness and counseling graduate certificate program
.  The program is designed for:
Pastoral care professionals of different faith traditions seeking additional training in recognizing and responding to mental illness and profound mental distress.
Mental health professionals seeking an enhanced understanding of the role of spirituality in their clients' lives.
Medical professionals seeking a deeper understanding of how spirituality and mental distress can affect their patients.
"What sets the spiritual wellness and counseling certificate apart is its emphasis on collaboration and communication among pastoral care, mental health, and medical professionals," said Cecile Brennan, Ph.D., assistant professor and coordinator of the counselor education graduate program at JCU. "When people seek assistance from one of these professionals, their first goal is to be understood, to be seen in their human fullness," she added. "The certificate program is uniquely positioned to help professionals develop a more nuanced understanding of counseling, spirituality, and the complexity of the whole person. In turn, they can enhance the skills needed to work together to serve the best interests of individuals they are assisting." The certificate includes five courses taken on part-time basis over five semesters. Coursework focuses first on knowledge development and then on practical application. Courses are taught by expert faculty in JCU's Counselor Education and Theology and Religious Studies graduate programs, as well as by practitioners from the community. Students may take courses for graduate credit, for continuing education units, or on a non-credit basis. Courses are scheduled primarily in the evenings to accommodate the schedules of working professionals. The program's first course is scheduled to begin in January 2014. Applications are due by Dec. 1, 2013. For more information, visit the
Office of Graduate Studies website
or call 216.397.4284.