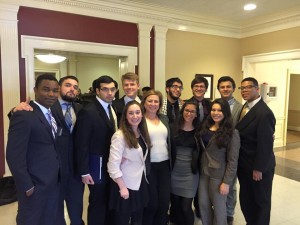 From left to right (back row): Anas Haroun, Mark Kligman, Saeed Tawil, Ben Gebhardt, Abbud Elashram, Jacob Dzierwa, Anthony Iacono, Shamir Brice (front row) Alexis Mittereder, Professor Mona DeBaz, Jessica Bou-Anak, and Diomne Habet.
John Carroll University's Model Arab League (MAL)
team travelled to the University of Miami in Oxford, Ohio on February 19th and participated in the
Ohio Valley Regional MAL Conference
. The students represented the United Arab Emirates in five councils. They had been meeting with their advisor,
Professor Mona DeBaz
, and preparing for this simulation since the fall semester. The students did an exceptional job representing their country, winning the Outstanding Delegation award for the best overall performing team from all the other universities participating. Every student was awarded Outstanding Delegate awards for best individual performances in their respected councils, as well.