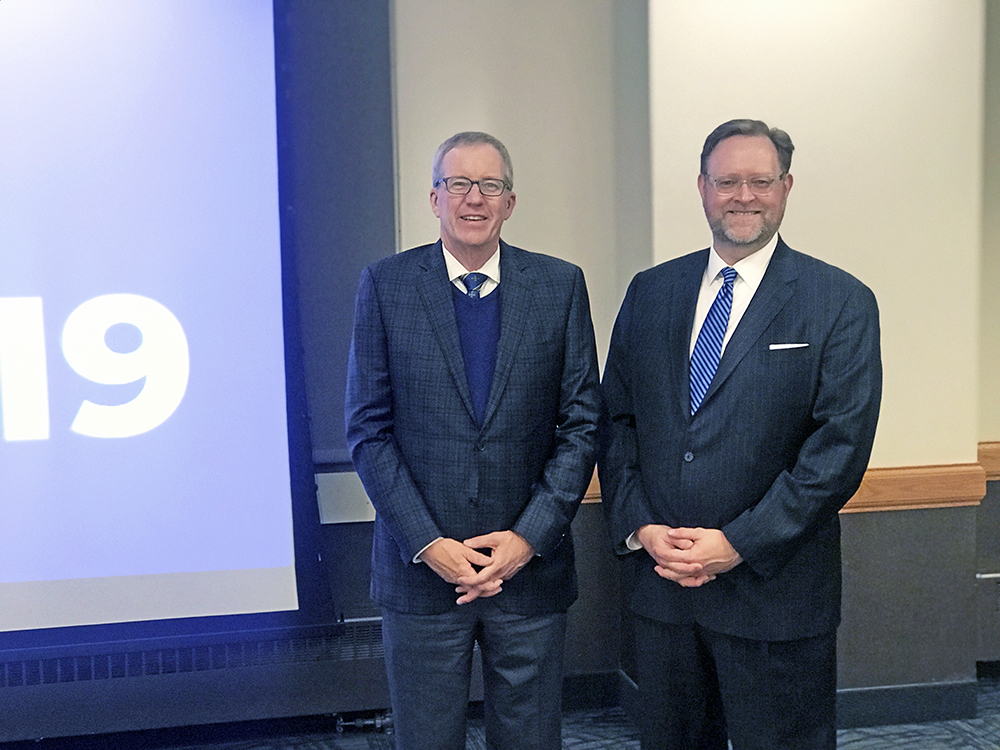 President Michael D. Johnson, Ph.D. and University Heights Mayor Michael Dylan Brennan before Wednesday's State of the City address.
John Carroll University played host to the University Heights State of the City address on Wednesday evening, welcoming guests and neighbors from the surrounding community. University Heights Mayor
Michael Dylan Brennan
's first official State of the City address also marked the first time that John Carroll's campus has served as the venue for the event. The address in the Jardine Room covered topics such as economic development, municipal finances, and future projects to improve the city. Mayor Brennan was introduced by President
Michael D. Johnson, Ph.D.
"John Carroll has been a proud anchor institution and partner in this community for more than 80 years," said Dr. Johnson. "We always welcome opportunities to collaborate with the Mayor and his staff at City Hall on projects and events that have a positive impact on our neighbors. I am thankful for Mayor Brennan's leadership and the time he takes to engage with our students and work collaboratively with the University." "In the year and six days that I have held this office, no day has been routine," said Mayor Brennan during his address. "Every day has been an opportunity to serve and make a real difference in improving our community. The privilege to do this for you and for our city is not one that I take for granted." The University is currently home to 822 total full- and part-time employees. John Carroll University officially moved to University Heights in 1935.