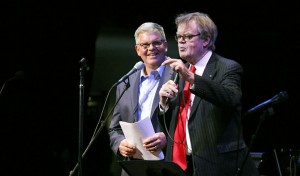 "The Writer's Almanac with Garrison Keillor"
will feature "You Asked For It," a poem by Associate Professor of English George Bilgere, Ph.D., on Wednesday, May 13. Works by Bilgere have been featured more than 40 times on "The Writer's Almanac." The show is broadcast by public radio stations nationwide as well as on SiriusXM satellite radio. It also is available as a 
podcast
. A member of John Carroll's faculty since 1991, Bilgere has authored six collections of poetry. He has garnered grants and awards from the National Endowment for the Arts, the Pushcart Foundation, the Witter Bynner Foundation through the Library of Congress, and the Fulbright Foundation. Bilgere also was named a 2014 Creative Workforce Fellow by the Community Partnership for Arts & Culture in Cleveland.
You Asked For It
By George Bilgere There was a show on TV called
You Asked For It
. Viewers would write in and ask to see unusual things, such as the world's greatest slingshot expert. I watched it every week on our humble Motorola, although the only episode I can remember now is the one about the slingshot expert. He was a grown man, as I recall, and he lived in an ordinary place like New Jersey. At a distance of ten or twenty paces he could pulverize one marble with another. He could knock a silver dollar out of the sky. He was the kind of father I wanted to have, an expert shot, never missing. And I think of him now, perhaps long dead, or frail and gray, his gift forgotten. Just another old guy on a park bench in Fort Lauderdale, fretting about Medicare, grateful for the sun on his back, his slingshot useless in this new world.