For the first time in John Carroll history, two students will receive Beaudry Award honors—James Haitz '12 and Jeff Hatgas '12—and they also happen to be friends.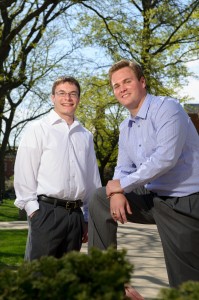 The Beaudry Award was established in honor of the late Robert Beaudry from the Class of 1950. Each year, a graduating senior (or two!) is recognized by his or her classmates and the University community for contributions in academic achievement, Christian life, leadership, and service to the University and civic community during their time as a student.
James Haitz
is the son of Jim and Karen Haitz and is a management and logistics major from Tampa, Florida. In March, Haitz was one of 10 Ohio students recognized with a Charles J. Ping Student Service Award. He has held several leadership positions as an Arrupe Scholar and a resident assistant. He has served as a First Year Retreat leader, Manresa Team Leader, and Senior Conversations Leader. Haitz has led immersion experiences to New Orleans and Guatemala through the Center for Service and Social Action. He has also organized Footprints for Fatima and the Fatima Food Drive to support the longstanding relationship between John Carroll and the Fatima Family Center in the Hough neighborhood. He has participated in a variety of Campus Ministry events, including: First Year Retreat, the 8-Week Guided Retreat through the Ignatian Solidarity Institute, and Manresa 16. Haitz also served as a team leader for Manresa 20. He believes that his faith is most visible through his numerous service activities. Haitz's community involvement includes a variety of weekly service activities. This year, he volunteered at the Fatima Preschool Program where he worked with 12- to 18-month olds. He has also tutored at both Roxboro and Chambers Elementary, and served as a mentor in the Hope of Tomorrow program, which encourages high school students to consider college educations. Haitz recently organized a very successful Cultivating Community Day (Jesuit Day of Service) in April. He has had several internships throughout his four years at John Carroll. Most recently, Haitz worked for a physical commodity trader, Ameropa AG. While interning for Ameropa, he worked in Tampa, Florida, and Hamburg, Germany. He has accepted a job with them and will begin this summer. In his first year, he will be trained in Florida, Germany, Switzerland, and Singapore.
Jeff Hatgas
is the son of JoAnn and Michael Hatgas and is a psychology major and urban studies minor from Middleburg Heights, Ohio. During his four years at John Carroll, Hatgas has been involved in a wide range of activities, including leadership positions as 2011 president of the Arrupe Student Organization and being part of the Advancing Leadership Programs, which help individuals recognize their own leadership potential and develop useful skills to apply in the greater community. As a sophomore, Hatgas and a few other students created the Cleveland Urban Plunge at Carroll—a program he helped lead in the two subsequent years. The Plunge exposes students to issues of poverty in the city of Cleveland. His strong commitment to John Carroll's Jesuit mission has shown through in all of Hatgas's activities. He has been an active member of Christian Life Communities and has participated in many retreats, including the First Year Retreat and Manresa 16. He served as a prayer leader for Manresa 19 and a co-leader for Manresa 21. He also regularly attends the Festival of Praise. In addition to Hatgas's extracurricular activities, his academics have remained a priority. He has been on the dean's list a majority of his time at John Carroll, and is a proud member of the Honors Program. During his first year, Hatgas was inducted into the Phi Eta Sigma National Honor Society. His interest in psychology resulted in an Asperger Syndrome research internship, in which he transcribed interviews, and eventually presented on the research findings at the Ohio Counseling Association conference in Columbus. His volunteer experience is also extensive. As an Arrupe Scholar, Hatgas has volunteered with the Hunger Banquet, Living Aids Ribbon, Footprints for Fatima, and Fatima Food Drive. Since 2009, he has been active in Seeds of Hope, which is a program that brings middle school students to campus to learn and have fun with their mentors.  Even with all of the great service opportunities that the University offers, Hatgas found time to seek out, and to volunteer with, The Refugee Response where he was an ESL tutor for a family in Cleveland. In January 2012, he participated in an international immersion in Guatemala. After graduation, Hatgas will begin a year of service in Boston through the Jesuit Volunteer Corps.