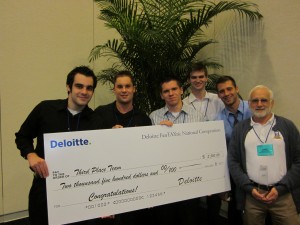 A team of accountancy students in John Carroll University's Boler School of Business recently traveled to Dallas, Texas, to compete in the Deloitte FanTaxtic case competition, where it earned third place in this national competition! Each team member won $500, in addition to $2500 for the Accountancy department. Deloitte FanTaxtic, held November 18-20, 2011, was an issues-based tax case study competition that focuses on a hypothetical, real life scenario. This year's competition required student teams to engage in a simulation exercise, role-play with Deloitte professionals and make a presentation in Deloitte's telesuites. The event was held at Deloitte University—Deloitte's new learning and leadership development center outside of Dallas. Congratulations to the JCU team members (pictured left to right):
Nick Bottiggi
,
Chris Eggleton
, 
Matt Stradiot, Matt Curry
, 
Eric Davis, Jerry Weinstein (faculty advisor).
The team was also assisted by the Boler School's Executive-in-Residence in Accountancy, Mr. George Goodrich, and its Business Communications professor, Dr. Ann Lee.