Boler accountancy graduate Stephen J. Hruby '12
was recently awarded the 2012 Elijah Watt Sells Award presented by the American Institute of CPAs.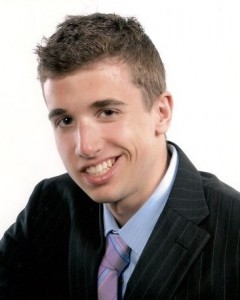 The award is presented to candidates who obtained a cumulative average score above 95.50 across all four sections of the Uniform CPA Examination, complete testing during the previous calendar year, and pass all four sections of the Examination on their first attempt. Hruby currently works as an assurance associate at PricewaterhouseCoopers LLP in Cleveland, Ohio. He is the first John Carroll graduate to receive this prestigious honor and one of only three graduates from an Ohio university to receive this year's award. The last recipient from Ohio was in 2005. "I can't say enough good things about my four years at JCU and the impact the education I received has on me being where I am today," Hruby said. "The Boler School of Business and the Department of Accountancy gave me the foundation of knowledge necessary to have success on the CPA Exam and make the transition from a student to an associate at a public accounting firm as easy as possible." The Elijah Watt Sells Award program was established in 1923 by the American Institute of Certified Public Accountants (AICPA) to recognize outstanding performance on the Uniform CPA Examination. The Department of Accountancy at John Carroll University prepares undergraduate and graduate students for careers in professional accountancy and for licensure as Certified Public Accountants. In addition to business courses such as accountancy theory, financial reporting, and tax law, students also learn from leaders and professionals working in the field. This year, John Carroll is ranked 10th in overall pass rates for first-time sitters among 260 medium-sized institutions according to The National Association of State Boards of Accountancy (NASBA). To learn more, visit
our website
.