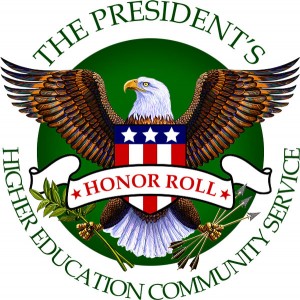 John Carroll University has been named to the most recent President's Higher Education Community Service Honor Roll (2012), the highest federal recognition a college or university can receive for its commitment to volunteering, service-learning, and civic engagement. This is the fifth consecutive year that John Carroll University has been selected for this distinction. "I'm proud of John Carroll for earning this high level of recognition—not just for this year, but for five years in a row," says John Carroll President Robert L. Niehoff, S.J. "Our mission is focused on learning, leadership, and service, and the President's Higher Education Community Service Honor Roll is one measure of our success in these important areas. I strongly encourage Carroll students to participate in service.  It will give you knowledge and insight, it will broaden your horizons, and it will make a significant difference in the lives of others. "Those who participate in service as students are likely to continue to serve their communities as alumni.  This is one of many reasons Carroll alumni are people of great character," Fr. Niehoff adds. During the 2010-2011 academic year, JCU students contributed more than 57,000 hours of direct service to the community. Margaret Finucane, Ph.D., is the director of the University's Center for Service and Social Action. The Center is dedicated to meeting real community needs through outreach efforts and has developed or guided many successful projects. Among JCU programs recognized by the Honor Roll this year are:
Community Gardens and Food Security: The JCU garden provided more than 200 pounds of vegetables to the Heights Emergency Food Center. Each April, more than 250 students, faculty, staff, and alumni join together for a day of spring cleanup in the Hough Neighborhood at several locations, including St. Thomas Aquinas School and the Tri-Street Homeowners Association (East 94th, East 95th and Ansel Road).
Fatima Family Center Partnership: This longstanding, 15-year partnership includes JCU students committed to weekly service in the daycare, preschool, and aftercare program. Other projects include Fatima Fun Day (a field day on JCU's campus for the FFC day campers) and the Thanksgiving Food Drive to provide 100+ families with a Thanksgiving meal and groceries for a week.
"We the People" Service Learning Program: JCU has partnered with the East Cleveland Schools for the last five years to provide supplemental social studies instruction on the U.S. Constitution and citizenship. The project culminates with a Mock Congressional hearing on JCU's campus.
Passport to Manhood Program: JCU partners with the Boys and Girls Club of Cleveland to support the "Passport to Manhood" mentoring program for youth housed at the Cuyahoga County Juvenile Detention Center.