John Carroll University has been selected as a Presidential Award Finalist for the President's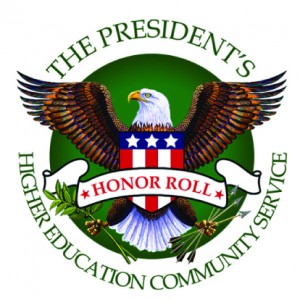 Higher Education Community Service Honor Roll, the highest federal recognition a college or university can receive for its commitment to volunteering, service learning, and civic engagement. This year, John Carroll is one of only 14 colleges and universities nationwide to receive recognition as a finalist.
The University has been named to the honor roll for six consecutive years, and is among 690 higher education institutions highlighted in 2013. The Corporation for National and Community Service (CNCS) administers this award.
John Carroll University President Robert L. Niehoff, S.J., is delighted that JCU earned a higher level of distinction for service this year, stating, "Being named as a finalist for 2013 is a testament to the success of our Center for Service and Social Action, empowering our students to truly be men and women for others." Approximately 2,000 JCU students performed 70,000 hours of community service in 2012. "Everything we do at John Carroll is focused on students," added Niehoff, "and service deeply enhances the classroom, student learning, and leadership skills."
Margaret Finucane, Ph.D., is the director of John Carroll's Center for Service and Social Action (CSSA). The Center coordinates service learning, immersion experiences, and community engagement for students, staff, and faculty. There are three signature initiatives for which CSSA is recognized:
 Carroll Reads – This is a literacy-tutoring program for K-6 students in public, parochial, and charter schools.
Ohio Graduation Test (OGT) Tutoring – JCU students work with Cleveland Metropolitan School District high school students to help them pass the OGT.
We, the People – This semester-long social studies program focuses on the U.S. Constitution and citizenship in 5th, 8th, and 10th grade classrooms with JCU students as tutors.
The President's Higher Education Community Service Honor Roll honors the nation's leading higher education institutions and their students, faculty and staff for their commitment to bettering their communities through service. These are institutions that reflect the values of exemplary community service and achieve meaningful outcomes in their communities.
The Corporation for National and Community Service (CNCS) is a federal agency that engages more than five million Americans in service through Senior Corps, AmeriCorps, the Social Innovation Fund and other programs, and leads President Barack Obama's national call to service initiative, United We Serve.