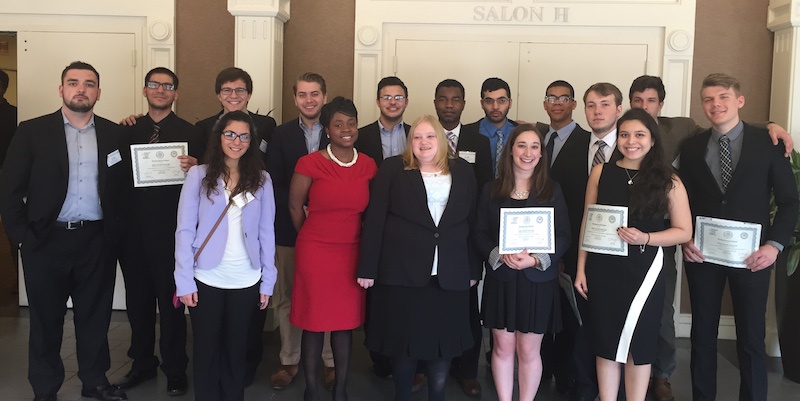 A team of 19 John Carroll University political science students participated in the National University Model Arab League competition held in April, in Washington, DC. John Carroll joined fourteen other colleges and universities in this annual, largest and most competitive Modern Arab League simulation in the nation. Six JCU students received distinguished delegate awards in their respective categories:
Alexis Mittereder '15 and Abdellatif El-Ashram '17 – Council on Political Affairs;
DiomneHabet '17 and Benjamin Gebhardt '18 – Council of Social Affairs;
Nick Pavio '15 and Michael Conley '17 – Council of Economic Affairs.
Students also representing John Carroll were:
Shamir Brice '15
SaeedTawil '15
Jessica Bou-Anak '16
Megan Hobart '16
Anthony Iacono '16
Patrick Bucyana '17
Krystal Milam '17
Catherine Pauley '17
Aidan Pogodzinski '17
Jacob Dzierwa '18
AnasHaroun '18
Mark Kligman '18
Preston Williams '18
The team's advisor is political science lecturer Mona DeBaz. Participation in the Modern Arab League offers students study abroad opportunities including intensive Arabic language programs in Morocco, Lebanon and Oman and a summer internship program and academic year program at the Model Arab League headquarters in Washington, DC.