The John Carroll student body is becoming more internationally diverse. In fall 2008, the University welcomed students from seven countries. Three years later, after just one semester of formalized and organized international recruiting, the student body includes people from 25 countries. This fall, undergraduates, representing 48 countries, arrived on campus. But it can be daunting for students to travel to – many for the first time – and live in another country to study. To ease the transition to U.S. culture and norms, John Carroll offers a
host family program
for international students. The program, which formally started in 2013, is an integral part of the Enrollment division's broader
Soft Landings
program, which helps create a smooth transition to campus for international students. More than 20 volunteers who are JCU employees have agreed to be a host mom or dad. "More than 70 percent of international first-year students don't have family or connections in the Cleveland area, so it's critical they have that connection and help," says Megan McBride, assistant director of international services. "We ask that each host family assists their student with shopping and other off-campus tasks – such as setting up a bank account or getting a cell phone – students need to accomplish before classes start. We also ask they help students move into and set up their dorm rooms. After that, the relationships that the host family and student have is up to them." The Andersons and Slatterys are two Carroll families participating in the program. Christine Anderson, donor relations and stewardship coordinator in JCU's Advancement division, and her husband, Tom, are hosting Linh Huynh '19 from Hanoi, Vietnam, and Quynh Tran '19 from Ho Chi Minh City, Vietnam. Cheri Slattery, the administrative assistant in the Integrated Marketing and Communications department, and her husband, Joe, are hosting Mariella van der Sluijs '19 from Amsterdam, and Viridianna Blanco '19 from Mexico City. "I thought it would be a nice opportunity to help out," Cheri Slattery says. "My husband and I talked it over, and we're excited to be a part of this." The Andersons hosted a student from Thailand years ago when their kids were in high school, and they loved it. "Tom and I agreed it was a wonderful opportunity for us to open our home and share our empty bedrooms," Christine Anderson says. "Our four kids are married and on their own, and the house gets quiet. It's wonderful having life in the house again, even if it is just for a short time or on weekends. Plus, it's a wonderful opportunity for our grandchildren to experience other cultures and traditions."
Arrival in America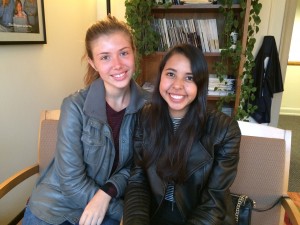 None of the four aforementioned freshmen visited campus before arriving two weeks before classes started on Aug. 31 because it was too costly. Blanco arrived in Cleveland with her father and brother and stayed at a hotel until she moved into her dorm room. The Blancos rented a car and were able to shop for everything their daughter needed. The Slatterys picked up van der Sluijs at the airport late on Aug. 19 and brought her to their home for the night. "The next morning she stood in our driveway looking out at our street and surrounding homes and said, 'This looks just like on TV,'" Slattery says. "Mariella was surprised by the size of the homes on our average suburban street, as well as the number of cars." Slattery took van der Sluijs shopping for the items she needed and the two got to know each other throughout the day. Later that night, the Slatterys attended a reception and dinner where they met Blanco and her family for the first time. "Both girls are a lot of fun and seem to be forging a friendship of their own," Slattery says. "They made the connection to me, and, already, our ties are a bit deeper."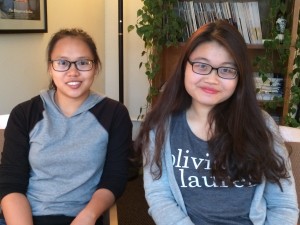 Two weeks before class started, Tran and Huynh were greeted and welcomed at the airport by the Andersons, who brought them back to their home. The Andersons helped get the two Vietnamese students settled halls and fed them home-cooked meals. The Andersons also took Tran and Huynh sightseeing and out to eat. Tran says the folks at Carroll have been really friendly. "It shocked me," she says. "People have stopped me and introduced themselves. It's overwhelming. People don't do that in Vietnam." In addition to the host family program, Blanco and van der Sluijs have taken a one-credit course called "Soft Landings" that has helped familiarize them with U.S. culture. The two also are taking advantage of a peer mentor program in which each international freshman is paired with an older international student to help them with anything student related. "It's like having an older sibling," Huynh says.
Open arms
The Slatterys hope to host Blanco and van der Sluijs at their home for dinner now and again and be available for any special requests or weekend breaks or getaways. "We'll try to provide whatever the girls might need from our 'home away from home,'" Cheri Slattery says.