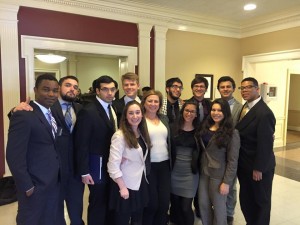 A team of 11 John Carroll University
political science
students earned the outstanding delegation award at the Ohio Valley Regional Model Arab League Conference held February 19–21, 2015, at Miami University in Oxford, Ohio. The JCU delegation was the top overall performing team at the conference, which included 12 other universities. Each JCU student also earned an individual outstanding delegate award. Model Arab League is a diplomatic simulation and leadership development program from the National Council on U.S.-Arab Relations. It is designed to give students insight into the Middle East and Arab world as well as build critical leadership skills from public speaking to negotiation and compromise. The JCU students had been preparing for the simulation since the fall semester with their adviser, political science lecturer Mona DeBaz. The JCU delegation represented the United Arab Emirates. Participating in Model Arab League were:
Shamir Brice '15
Alexis Mittereder '15
Saeed Tawil '15
Jessica Bou-Anak '16
Anthony Iacono '16
Abdellatif El-Ashram '17
Diomne Habet '17
Jacob Dzierwa '18
Benjamin Gebhardt '18
Anas Haroun '18
Mark Kligman '18
The John Carroll contingent will participate in the National University Model Arab League (NUMAL) held April 10-12 in Washington, D.C. The NUMAL will host over 300 students from approximately 25 colleges and universities in the largest and most competitive MAL simulation in the nation.