A team of John Carroll University students placed first in a trebuchet-launching competition during a Society of Physics Students (SPS) meeting held recently at Eastern Michigan University.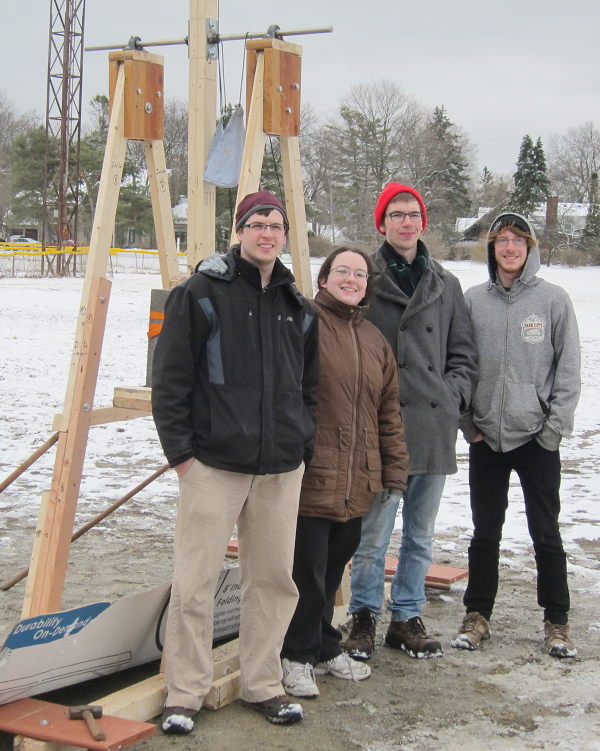 The students designed and built a trebuchet—a machine used in medieval warfare to hurl large stones and other objects—measuring 17 feet high, 10 feet long, and 4 feet wide. The JCU team launched a cantaloupe approximately 135 feet to take top honors. The contest was the final event of the SPS meeting, which included an academic poster session, lectures, and a planetarium presentation. The JCU students who participated are:
Katherine Duncan-Chamberlin '13, a physics major, mathematics minor, and past SPS chapter president. She has published an article with JCU physics professor Naveed Piracha, Ph.D., based on their research of the noble gases. Duncan-Chamberlin also conducted summer research at Cornell University, where she built an electron gun for use in an energy recovery linear particle accelerator. She has been accepted to Lehigh University's condensed matter experiment Ph.D. program.
Angus MacAskill '13, a physics major and president of JCU's SPS chapter. His academic interests include astronomy and earth sciences. MacAskill completed an internship with the Lighting Innovations Institute located on the JCU campus. While there, he collaborated on lighting technology research and product design with staff members Edward Carome, Ph.D., Richard Hansler, Ph.D., and Vilnis Kubulins.
Ryan Salata '13, an interdisciplinary physics and general chemistry double major, and past SPS chapter treasurer. He completed an internship last summer at Lubrizol Corp., developing a method to analyze the film strength of oils and greases. Salata also has conducted on-campus research with physics professor Jeffrey Dyck, Ph.D., and chemistry professors Paul Challen, Ph.D, and Michael Setter, Ph.D. Salata has been accepted to the University of Akron's polymer engineering Ph.D. program.
Bryan Scott '14, an interdisciplinary physics major. He plans to pursue a career in optometry or applied optics.
JCU's SPS chapter sponsors events throughout the academic year for students of all majors. For more information, visit the
Department of Physics website
.