John Carroll University's CFA Challenge Team earned top honors at the 2019 Cleveland CFA Research Challenge in late February.
Joey Adams '19
,
Hunter Horning
,
Cindy Lee
,
Daniel Perez '21
and
Jeff Przbysz '19
– all students in Finance 452 – began work on the challenge in October 2018.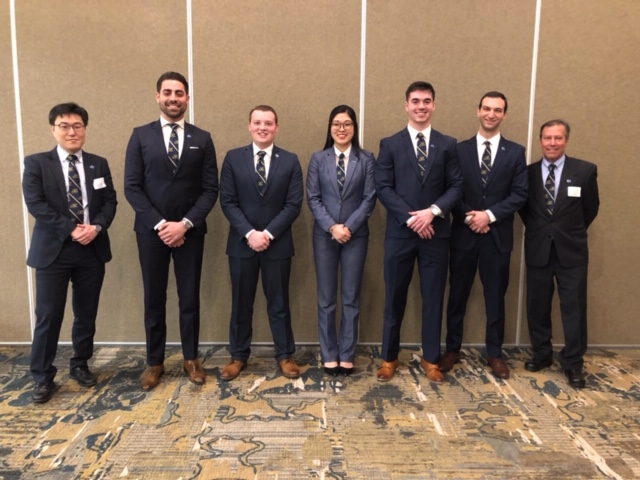 The firm under consideration was Avon Lake, Ohio-based PolyOne, a specialty chemical company. "This year's competition was especially challenging and we saw a high attrition rate from competitors," said
Anthony Aveni
, executive-in-residence, Boler College of Business. "We are incredibly proud of the work that our team did from their thorough preparation to written and verbal presentations." He added, "The industry practitioners who served as judges shared high praises for the work of John Carroll's team. Aveni is the industry mentor and
Dr. Jisok Kang
is the academic advisor for the JCU CFA Challenge Team. Both are CFA charter holders. The CFA Institute Research Challenge is an annual, global competition that provides university students with hands-on mentoring and intensive training in financial analysis and professional ethics. According to the CFA, "students form teams to research and analyze a publicly traded company and compete with students from other schools on a local, regional, and global level." With their victory, the JCU CFA Challenge Team advances to the Americas Regional on April 23-24, 2019 in New York. The Global Final – which will also includes the Asia Pacific Regional winner and the EMEA Regional winner – takes place on April 25, 2019 in New York.