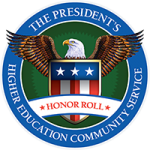 For the eighth consecutive year, John Carroll University has been named to the President's Higher Education Community Service Honor Roll. This is the highest federal recognition a college or university can receive for its commitment to volunteering, service-learning, and civic engagement. The Honor Roll recognizes institutions of higher education that support exemplary community service programs and raise the visibility of effective practices in campus community partnerships. The U.S. Department of Education and Corporation for National and Community Service announces the schools honored, based on their programs during the previous academic year. John Carroll is recognized in all three of the following Honor Roll categories:
General Community Service
Education Community Service
Economic Opportunity Service
John Carroll University President Rev. Robert L. Niehoff, S.J., acknowledged this latest honor, saying, "John Carroll is pleased to have been recognized for consistently offering students opportunities that make a lasting positive impact in communities throughout Ohio and across the globe." Approximately 2,000 JCU students participated in community service during the 2015–16 academic year. Below are just a few of programs that are having a significant impact on the community:
John Carroll students mentored residents at the Cuyahoga County Juvenile Detention Center, and helped community re-entry clients at Towards Employment with resume writing, mock interviewing, and online job searches. They incorporated their classroom learning to aid these individuals in obtaining employment while at the same time realizing the similarities they shared.
JCU faculty and students partner with the Cleveland Clinic Center for Autism, Monarch Center for Autism, and Milestones Autism Organization to aid research, and work directly with children with autism, contributing to progress in the field.
In an effort to respond to the needs of refugee families locally, John Carroll students have helped with resettlement activities, taught adult refugees essential skills to navigate in a new country, prepared them for the U.S. Citizenship exam, and tutored refugee children in their school work and English language skills.
Sister Katherine Feely, SND, serves as the Director of the Center for Service and Social Action at John Carroll. In addition to ongoing programs, CSSA offers more than 120 weekly service-learning opportunities and 125 one-time projects and events that students, staff, and faculty participate in throughout the year. The University's commitment to service is making a difference both on campus and in the Greater Cleveland.