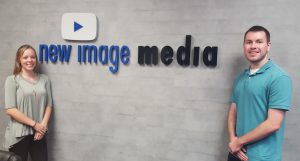 Julianna Clark and Benjamin Troy both landed paid summer internships under the direction of Steve Petti. In addition to being the owner of New Image Media, Petti is also president of the Warrensville Heights Area Chamber of Commerce (WHACC). He was able to offer learning opportunities to both students in their areas of interest.
"All of the real-world steps are involved in their projects—and they both did a great job observing, learning, and eventually working independently," stated Mr. Petti.
Read more about the students' experiences below.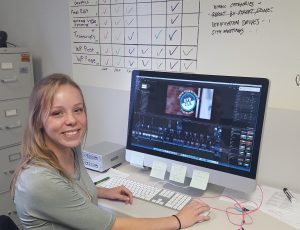 JULIANNA CLARK: "It's opened me to a path that I want to pursue for my future."
Class of 2019 | Tim Russert Department of Communication and Theatre
As a communications major with a visual arts concentration, Julianna immediately began working on editing responsibilities. New Image Media is a full service video production company, and the videos on which she worked highlighted members of the Chamber.
"The storytelling that's involved with my video production classes at John Carroll is directly related to what I did during my internship," says Julianna. I've gained hands-on knowledge at New Image Media that's fun and creative, which is why I wanted to pursue this type of career in the first place."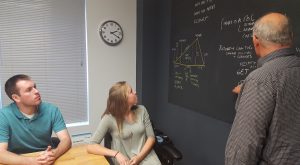 BENJAMIN TROY: "I gained important business skills that can be used in any industry."
Class of 2018 | Boler School of Business
Benjamin Troy is a rising senior majoring in International Business with Language and Culture. He had completed a study abroad experience in China this past spring, and was seeking a summer internship back at home.
"I wanted to do meaningful work in a professional environment, so I specifically sought an internship with a chamber of commerce," says Benjamin. "I viewed it as a professional development opportunity that would also give me a chance to improve communication skills."
Benjamin helped build a new online business directory for WHACC cities (Warrensville Heights, North Randall, and Highland Hills). He also assisted with important events.
"Benjamin really helped propel these projects for us, giving our Chamber members a lot of value through researching business data," Petti emphasized. "He even filled in for me at one of the board meetings where he gave a good presentation."
The internships that Benjamin and Julianna completed are supported by John Carroll University's partnership with the Great Lakes Higher Education Corporation & Affiliates, which makes it possible for qualified, eligible students to participate in career-meaningful, paid internships. For more information, contact Dr. Graciela Lacueva, Project Director, at 216.397.4625 or lacueva@jcu.edu. Need additional resources? Visit the Center for Career Services.