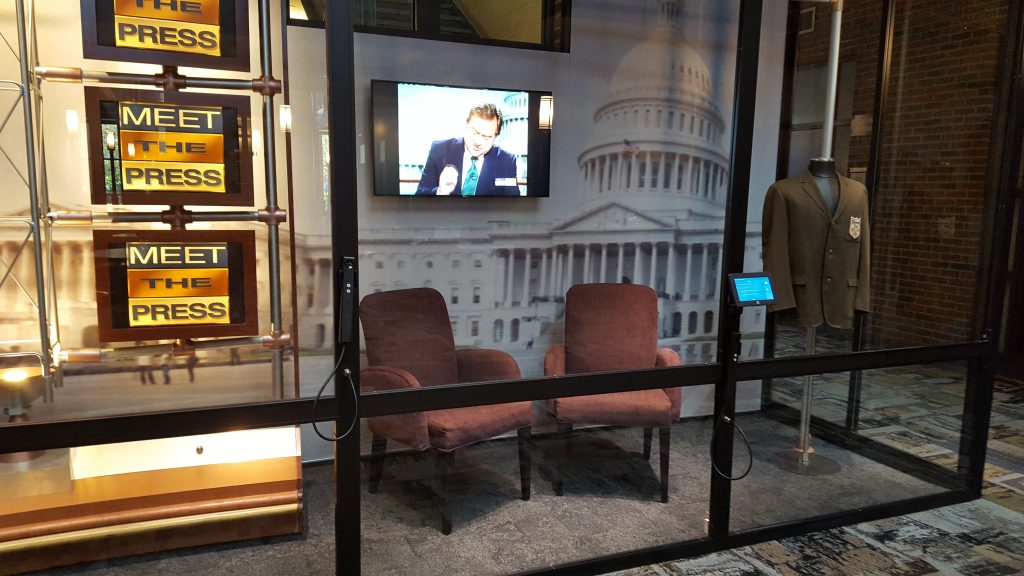 Tim Russert's "Meet the Press" set is on display at John Carroll University.
A new permanent display in honor of 1972 John Carroll University alumnus,
Tim Russert
, has been officially unveiled.  The University received portions of the NBC "Meet the Press" set, and excerpts from historic interviews he conducted during his era at the network. The display, located in the University's O'Malley Center, is made possible thanks to the generosity of Mr. Russert's family. It will keep Mr. Russert's memory alive on campus and continue the collaboration that resulted in the creation of the
NBC/JCU "Meet the Press"
Fellowship. John Carroll
President Robert L. Niehoff, S.J.,
presided over the dedication event during  the University's Reunion Weekend 2016 celebration on Saturday, June 18. Russert was an American icon.  He was a magnetic presence as the Managing Editor and Moderator of "Meet the Press," the longest running, most popular and most influential of the Sunday morning political talk shows during his tenure. Russert was president of the Student Union at John Carroll, and a respected campus figure during a tumultuous era characterized by the Vietnam War protests.
The Department of Communication and Theatre Arts was renamed in his honor in 2009.