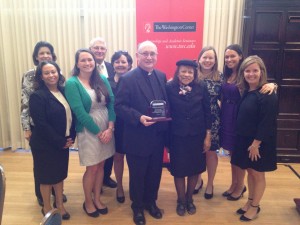 Five colleges and universities were chosen this year from nearly one hundred nominations to receive the
2015 Higher Education Civic Engagement Awards
presented by
The Washington Center
and the
New York Life Foundation
. John Carroll University is among those honored. Recipients were chosen based upon their leadership and innovation in civic engagement. John Carroll University will be presented with the award during The Washington Center's annual awards luncheon in Washington, D.C. at the National Press Club on October 5, 2015. "It is a great honor to receive this award, which reflects the breadth of our students' commitment to making a positive impact on our communities," said John Carroll University President Rev. Robert L. Niehoff, S.J. "Service, combined with intellect, leadership, and character, are the hallmarks of a John Carroll education, which we know will guide our graduates as they pursue their goals." The Washington Center for Internships and Academic Seminars, in partnership with the New York Life Foundation, established this award to celebrate institutions in the higher education community that are reaching beyond their own campuses to achieve sustainable civic impact. The award aims to highlight, in particular, innovation and leadership in forging partnerships beyond the campus to define and address issues of public concern, whether at the local, regional or international level. John Carroll is specifically being recognized for the creation of the
We the People
Service-Learning Program, established in 2005. It pairs JCU students with area 4th, 8th and 10th graders to conduct activities that reinforce learning about the U.S. Constitution, civic engagement and issues of injustice. The program, coordinated by the University's
Center for Service and Social Action
(CSSA), has reached more than 3,100 children in under-resourced Cleveland schools since its inception. CSSA sponsors approximately 100 weekly service activities throughout the Cleveland community, numerous one-time projects, and social justice advocacy. "John Carroll University is a shining example of how universities are taking the traditional curriculum model and incorporating initiatives that teach self-awareness, community engagement and life-long leadership skills," said Mike Smith, president of The Washington Center. "John Carroll University is a true leader within the academic community and we extend our congratulations on this honor." A committee of leaders in the field of civic engagement selected the recipients of the award. Serving on this committee were:
Geraldine Mannion, Carnegie Corporation of New York, Chair
Michelle Cooper, Institute for Higher Education Policy
Bobby Hackett, Bonner Foundation
Heather Smith, Rock the Vote (former)
Father Niehoff will accept the award on John Carroll University's behalf. The other academic institutions receiving the 2015 Civic Engagement Award include Dominican University of California, Rutgers University – Camden, Tufts University, and Weber State University.
About John Carroll University
John Carroll University, founded in 1886 as Saint Ignatius College, is located in University Heights, Ohio, in suburban Cleveland. The University was renamed in 1923 to honor America's first Catholic Bishop, John Carroll of Maryland. Its Jesuit Catholic mission inspires individuals to excel in learning, leadership, and service in the region and the world. John Carroll University is recognized nationally for an exceptional four-year graduation rate, teaching excellence, and a commitment to living a faith that does justice as central to its mission. John Carroll is one of 28 Jesuit colleges and universities in the United States.
About The Washington Center
The Washington Center for Internships and Academic seminars is an independent, nonprofit organization that serves hundreds of colleges and universities in the United States and other countries by providing selected students challenging opportunities to work and learn in Washington, D.C. for academic credit. The largest program of its kind, The Washington Center has over 50,000 alumni who have become leaders in numerous professions and nations around the world. It was established in 1975.
www.twc.edu
About the New York Life Foundation
Inspired by New York Life's tradition of service and humanity, the New York Life Foundation has, since its founding in 1979, provided more than $155 million in charitable contributions to national and local nonprofit organizations. Through its focus on "Nurturing the Children," the Foundation supports programs that benefit young people, particularly in the areas of educational enhancement and childhood bereavement. The Foundation also encourages and facilitates the community involvement of employees, agents, and retirees of New York Life through its Volunteers for Life program. To learn more, please visit the Foundation's Web site at
www.newyorklifefoundation.org
.