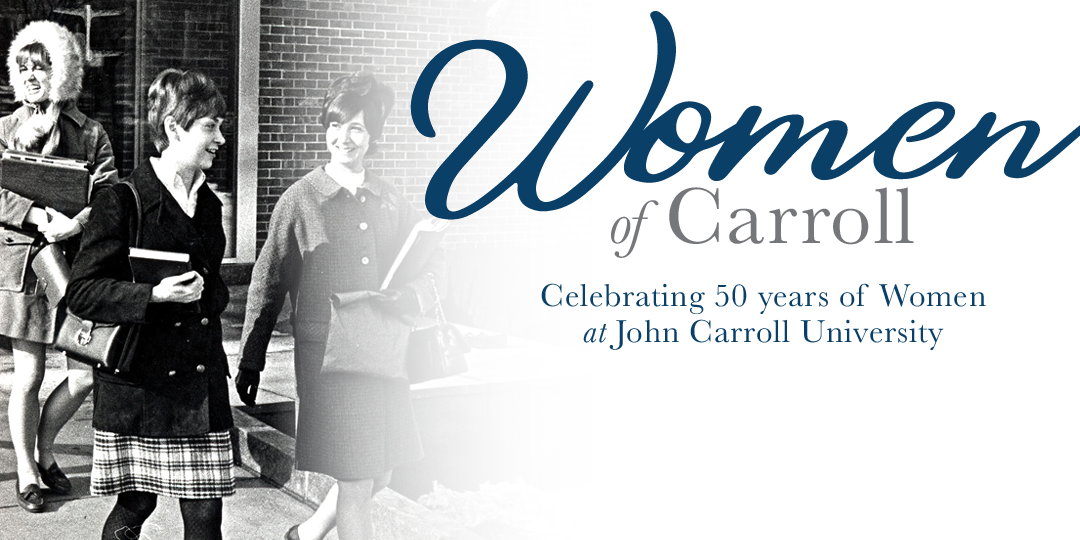 When students entered morning classes on the first day of the fall semester, they were likely unaware it represented a milestone in John Carroll history. The start of this academic year marked the 50th anniversary of the first coeducational full-time undergraduate class in University history. On August 27, 1968, a group of more than 60 female students started their career at John Carroll. Attending class that morning, these women were setting the stage for future academic and professional achievement by JCU alumnae. The story of this transformation from the "college for men in Cleveland" into the home of "men and women for and with others" began decades earlier.
"The college for men"
For the first 82 years of its history, John Carroll was often proudly referred to as "the college for men" in Cleveland. It proved true in the University's early days, as it would be decades before females took any classes at JCU. In 1927, three nuns,
M. Ferrer Conroy, O.S.D.
,
Mary Kieran Dowd, H.H.M.
, and
Mary Thomasina Lynch, H.H.M.
, became the first females to earn a JCU degree. At that time, only nuns were permitted to take Saturday courses. In the 1930s, female lay students were permitted in Saturday sessions, the Evening College, and the Graduate Division.
Jennie Dignan '36
and
Agnes Loretta Meehan '36
became the first lay women to earn undergraduate degrees, and six years later,
Antoinette Antoncic '42
was the first female to receive a degree in business administration. In the 1940s, the admission of female lay students prompted discussions about making John Carroll coed. The talks went nowhere, but female students who could not find a course they needed in the evening were allowed to attend a section held during the day. This policy, known as "guesting," was the first step toward change. By 1943, John Carroll had conferred 82 undergraduate degrees to women who participated in Evening College, Saturday, and Summer sessions. When the University Blueprint Committee met in 1958, its final report recommended extending Evening College classes into the afternoon. The first female graduate assistant was hired that same year. Other reports, such as the 1964 North Central Report, suggested that a separate women's college might be an answer. In 1962,
The Cleveland Press
and
Cleveland Plain Dealer
ran front page photos of female students on campus surrounded by male students. The Press article commented that the image of JCU as "a seminary on the hill" had faded. This caused heated debate among the student body. A
Carroll News
editor published the following epitaph: "John Carroll University, an institution of higher learning for men, 1886-1965."
Change comes to Carroll
In 1965,
Donald Gavin, Ph.D.
, was promoted from the chair of history to dean of the Evening College. Under his leadership, the practice of "guesting" increased, including a cohort of 50 night-shift nurses from Cleveland Metropolitan General (now MetroHealth). Student Union passed a resolution in 1966 that proclaimed John Carroll to be a "coeducational University." While not formally recognized, it marked another milestone in the path to coeducation. In 1967, the Evening College was renamed as the University College, which would serve non-degree and continuing education audiences. JCU formed a women's glee club, and
The Carroll Quarterly
appointed
Susanna O'Neil
to an editorial post, and
Sandy Cervenak
would become an editor of
The Carroll News
in the fall of 1968. Shortly after becoming JCU president,
Rev. Joseph O. Schell, S.J.
, announced in January 1968 that Rome had approved his proposal to make the University coed. Fr. Schell told the JCU community that the College of Arts and Sciences would open its doors to female majors that fall. Academic Senate approved the changes, and
Mary Kirkhope
became the first dean of women. That fall, 48 women took residence on the self-contained first floor of Murphy Hall, with more than 60 total students beginning coursework.
Blazing a trail
Joan (Balzarini) Crockett '72
travelled across town and stepped off of her bus in front of John Carroll's campus for her first day. Standing next to her was
Kathleen (Nolan) Knox '72
. Together, on August 29, 1968, they began a journey of friendship and learning that would change both them and the University.
Andrea Wasdovich '72
was also starting her first class that day. She spent time nervously waiting on a bench near the quad, where a football player welcomed her to campus. Later, in her first class, she stood when the teacher entered, almost on muscle memory from her time at Beaumont, an all-girls school down the street from JCU. She remembered everyone laughing and
Tim Russert '72
leaning over to offer words of encouragement. The change was not limited to the classroom. As Crockett described it, "we had no idea how much our world was about to shift." They entered college during a period of great activism and unrest over U.S. involvement in the Vietnam War. For many young people, their personal identity would change. "We showed up to class in suits and dresses on our first day," Crockett remembers. "It quickly changed to long hair and jeans." Women were also finding their voice, and fighting for representation. "What made John Carroll so fun was it was like a little city," Wasdovich said. "Our Student Union was so dynamic, but there was a dominant male presence. Women's groups begin to speak up and be heard—it was eye opening for me." It was an empowering four years for many students. "I was exposed to different courses, and different ways of thinking," remembered Wasdovich. "I learned to be a better student and leader, and to never take no for an answer." She would go on to take leadership roles in her sorority, as a Student Union member, and as an RA. "I always felt supported in the classroom," Knox, an English major, said. "As a first-generation student, I prided myself on taking the most challenging courses. The English department was wonderful and made me a better student." Many felt that the coed environment helped them when it came time to enter the professional world. The Class of 1972 held their own in the classroom, proved doubters wrong, and transformed outdated thinking. "I'm proud of my time at John Carroll and of my career as a nurse," said Wasdovich, who became a vice president at Lake Health in Willoughby, Ohio. "I learned what it took to be strong, and I now get to share that with my nurses and when I speak to people across the country." Crockett shared a similar experience. "I didn't see barriers in the business world, because I always worked with male classmates at Carroll," she remembered. "I chose John Carroll because my father told me it would open doors in Cleveland—and he couldn't have been more right. I was well prepared for my career the day I graduated." Joan Crockett went on to have a career with Allstate Insurance, serving as their senior vice president of human resources until her retirement in 2008. During her 35 years of leadership at the company, Allstate was recognized for its outstanding employment practices by Fortune; Diversity, Inc.; and Working Mother. "Women of Carroll" was written by
Dale Armbruster '14, '17G
, with assistance from members of the Class of 1972 and historical context from "A Century of Service," by
Donald P. Gavin, Ph.D.