Time Warner Cable SportsChannel will cover Saturday's NCAA second round matchup between John Carroll (10-1, 9-0 OAC) and the Wesley College Wolverines (9-2, 5-1 NJAC) on Saturday, November 26. The live telecast will be featured on Time Warner Cable channels 1311 & 311.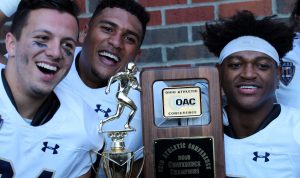 Live coverage of the contest from Don Shula Stadium will begin at 12:00 p.m.
John Carroll defeated Olivet College in the first round, 37-12, last Saturday. The Blue Streaks are in the second round of the NCAA playoffs for the fourth time in program history (1997, 2002 and 2014). Wesley advances for the 12th straight year, following a 38-17 in over Stevenson. The Wolverines have not lost a second round game since 2008.
David Bacon, Ryan Cavanaugh and Gabriella Kreuz will serve as the gameday announcers. Bacon, Cavanaugh and Kreuz are all John Carroll alumni.