Current NCAA executive and Cleveland native Oliver Luck spoke to students in the
Mike Cleary Program in Sports Studies
on Friday, September 15 in Donahue Auditorium. Luck, a graduate of Gesu School and Cleveland St. Ignatius, shared stories of his experiences and gave advice for students aiming to start their career in sports business.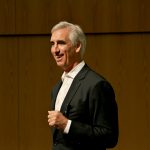 Oliver Luck Luck, the executive vice president of regulatory affairs at the NCAA, serves on the 12-member
Advisory Council for Sports Studies
, which supports John Carroll's fasting-growing major. His advice to students: make your own path. "Build a knowledge base and use it to inform your future," Luck says. "You can even create your own job by envisioning yourself four, five, or six years down the road." In his career, Luck has served as a member of the inaugural College Football Playoff committee, as athletic director at West Virginia University, and as one of the architects of the Houston Dynamo of Major League Soccer. In the growing field of sports business, Luck believes that students need to have a diverse base of knowledge. "You need to learn to think critically and analytically," he says. "In the sports business you're expected to do this." As the industry expands, a wide range of opportunities exists for students. Luck says that specifically for women, the opportunities are there, and that the NCAA and other organizations are working to promote more female leadership. "That's something you don't really expect to hear," said John Carroll junior and sports studies major Jessica Cook. "As a female, it was promising to hear about the NCAA's dedication to becoming more diverse in administration and coaching. I felt motivated leaving that room." The
Mike Cleary Program in Sports Studies
offers specializations in sports and athletics administration, coaching and recreation, and sports, fitness, and wellness for diverse populations. Learn more about the program at 
sites.jcu.edu/sportsstudies
.