Norma Geller's '87 philanthropy is driven by tragedy and enlightenment
By Karly Kovac '15
Norma (Saphire) Geller '87 is a caregiver, businesswoman, and survivor. "I'm a people person," Geller says. "I've been through a lot in my life, and I've gotten to this point, and I'm thankful. I connect with people." While working diligently to raise her four children and 11 grandchildren, catering to the family furniture business with her husband, Al, and battling ovarian cancer, Geller has supported several Cleveland philanthropic efforts. She was driven by tragedy and enlightenment through her John Carroll education. In 1978, after meeting with an admissions advisor, Geller began the first of her nine years as a JCU student. Back in 1951, she studied for one quarter at The Ohio State University right after high school, but her education was hindered. "I grew up with the fallacy of believing the more close work I did, such as reading, the more likely I'd go blind," she says. "So in high school, they excused me from all book reports. I had these big cork-bottle glasses and was in a sight-saving class, which was a stigma. All the kids in the class had these big, horrible-looking glasses. Kids could be cruel. Every night I'd pray they wouldn't make me go to that class."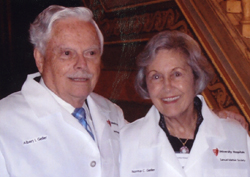 Albert and Norma '87 Geller Many years later, after receiving a postcard in the mail, Geller decided to pursue finishing her higher education, initially expecting to major in 
art history
. "I had these four kids – I was 45 years old – and the postcard read, 'Have you thought about an education?' I thought, 'Could I do this?' and I said, 'You know, I think I can." Geller eased her way into Carroll and adjusted to the 
Catholic environment
. "I enrolled, taking one class," she says. "I walked onto this beautiful campus saying, 'I'm a middle-aged Jewish lady. Do I know what I'm doing?' There was a crucifix on the wall in my history class, and I wasn't used to crucifixes. The history teacher said the "Our Father" before every class, so I said my own prayer quietly to myself, and it was fine." Even though she was an older student at the time, Geller believes her professors were always ready to help. "Dr. [Robert] Getscher, [retired JCU art history professor], gave me my first exam, and said to me, 'Norma! Was my exam that terrible, because you looked awful when you turned it in.' I replied, 'Dr. Getscher, you have to understand, I haven't taken an exam in 30 years. It wasn't your exam, it was me.'" After taking two psychology classes, Geller decided her true passion was sociology, which became her major. "I'm a 'we' person, not an 'I' person," she says. Geller graduated summa cum laude and was a member of 
Alpha Sigma Lambda
, a National Continuing Education Honor Society that honors the fine character and dedication of older college students who balance obligations while maintaining high-academic standing.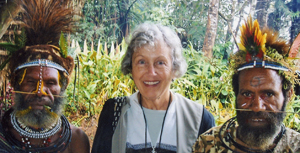 Geller on an African safari "At a ceremony, Fr. [Thomas] O'Malley, S.J., president at the time, said, 'Well Norma, since you're here, maybe we shouldn't have Mass.' I said, 'Absolutely not. I'm here, this is yours, and I'm partaking in this.'"
Commitment and tragedy
Geller's path toward a degree in sociology adhered to her commitment to others as a volunteer at University Hospitals for 20 years. She worked in the playroom at Rainbow Babies and Children's Hospital for eight years and at the front desk in the radiation therapy department at the former Mt. Sinai Hospital in Cleveland. "When my twins were in the first grade, they were gone all day, and I said, 'I have to give back; this is in me to do this,'" she says. But, after years of dedication to patients, Geller became one herself. In December of 1991, shortly after earning her master's degree in social work from Case Western Reserve University in Cleveland, Geller was about to embark on an African Safari when she received a letter from the hospital. A doctor at the hospital where Geller was volunteering was conducting a study; he asked if he could take a blood sample from her. "I thought, 'A little sample is fine because I'm helping humanity,'" she says. "Little did I know, I was helping myself." The results indicated her blood levels were slightly elevated and needed to be checked. Upon further investigation, Geller was diagnosed with ovarian cancer. After six months of systemic treatment and four months of peritoneal treatment, the chemotherapy succeeded.
A family and a business
Soon after returning home to Cleveland from The Ohio State University in 1951, Norma Saphire married Al Geller. He was working as a salesman at an unfinished furniture store, 
Fish Furniture
, in downtown Cleveland that was owned by Seymour and Esther Fischgrund since 1925. After Geller worked at Fish before and after his service in the Korean War. When Fischgrund suffered a massive heart attack and died, Geller, who was one of the Fischgrunds' favorite salesmen, ran the business as the bookkeeper with the help of Mrs. Fischgrund."My husband became her instant manager, driver, and surrogate son," Norma Geller says. "She always said her best investment was in my husband." In 1963, the couple took over the business and soon opened a store in North Olmsted, Ohio. "My husband saw that unfinished furniture wasn't the way to go, so he built up the business with solid, hardwood furniture and sold on product knowledge," she says. Norma Geller recalls many stories throughout the years, including the creation of the catchy TV jingle that has been familiar to Cleveland natives for years. "The man who wrote it was a big Texan with a leather belt, and I think he had a cowboy hat," she says. "He came to see what we were about. He went out during lunch and came back with the slogan, 'Fish Furniture, everything for your way of living.'" "God was good to me," she says. "Don't ask me how I survived because no one survives ovarian cancer. I've been in remission 22.5 years."
Giving back
With her experience as a volunteer driving her studies, Geller's knowledge of philanthropy on the national and world stages was broadened by her John Carroll experience. "I look at all the tragedies I see in the world and feel so badly that so many people are suffering," she says. "Why can't we live in peace with people? I've found the Jesuits to be very empathetic, and so I gained a lot of empathy while I was at Carroll." One of the first few places the Gellers decided to donate to was University Hospitals Seidman Cancer Center (formerly the Ireland Cancer Center) and the Cleveland Clinic. Serving as members on the Case Comprehensive Cancer Board, they decided to sponsor the professorship of researcher Analisa DiFeo, Ph.D., who has made breakthrough discoveries in ovarian cancer research with her staff. "This wonderful, darling young lady is working really hard," Geller says. Every year since Geller's graduation from Carroll, she has sponsored the annual
Albert I. and Norma C. Geller Lecture Series
 in the sociology department and developed the Norma C. Geller Fund for Human Relations and the Albert I. and Norma C. Geller World Hunger Fund at John Carroll. The Gellers also have donated the new Hillel building of the Jewish Federation of Cleveland, which is named after them. The couple donates to other charities as well. "We're not billionaires by any stretch of the imagination, but my husband's motto is you only go through life once, so make a difference," she says. "I told him if I outlive him, I'm putting 'He made a difference' on the back of the stone."
Philanthropy at Carroll
Geller also participates – with her family – in John Carroll's 
Labre Project
, which helps feed the homeless in Cleveland every Friday night. The second time she went on Labre, she took her son, Daniel, and her grandsons, Noah and Joshua. "The people partaking in the program asked Joshua how old he was, and he said, '13,' and they said, 'Well, you're the youngest person who ever came on Labre'" she says. "Then they said, 'Do you mind telling me how old you are?' and I said, '81,' and they said, 'Well, you're the oldest person who ever came on Labre.' It was wonderful." After passing out food to and talking with the homeless in tents by the Cuyahoga River several times, Geller donated boots for the homeless through the Labre Project. "A man took the box with spaghetti, potatoes, and fruit; stood there in the lot; and gulped down the food like he hadn't eaten in a long time," she says. "You just count your blessings. "You always think of college kids drinking and partying every weekend, but I say, 'Not the John Carroll kids; they're out there feeding the homeless,'" she adds. "I'm so proud to be associated with that." JCU