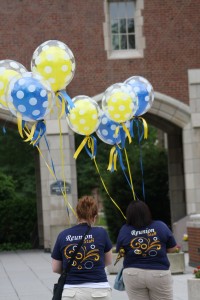 Know a great freshman, sophomore, or junior student? Have them apply to work Commencement Reunion Weekend! The Office of Alumni Relations is looking for energetic, hardworking, dedicated students to work Commencement Reunion Weekend. You are invited to recommend students you think would be great ambassadors. This year's Commencement Reunion Weekend is May 20-22, 2011.  All student workers will be needed starting the morning of Thursday, May 19, through the evening of Sunday, May 22.  Positions include clerk and camp counselor. Commencement Reunion Weekend is a great opportunity for students to network with alumni, earn some spending money, and enjoy Carroll's traditions. For more information, including available positions, duties, and applications, visit the Office of Alumni Relation's
website
. Please let these students know if they are interested they should:
Fill out the application by February 25, 2011. Click here for the application.
Mention your name on their application.
Feel free to forward this on to students. If you have any additional questions, please contact Reunion Coordinator Carla Gall 
cgall@jcu.edu
or at 216.397.1592.