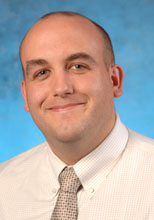 Kyle O'Dell, Ph.D.
Senior Director of Student Engagement and Director of Undergraduate Leadership Education
kodell@jcu.edu
Kyle is in his 16th year at John Carroll and provides oversight for new student orientation programs, leadership development programs, and commuter outreach initiatives, in addition to supervising the staff who work with campus programming, student government, and liturgical music and musical arts. He received his bachelors and masters degrees from Bowling Green State University and completed his doctoral work at the University of Toledo. Outside of work, Kyle likes to spend time with his wife Emily and their two children, hike, cook, and watch movies.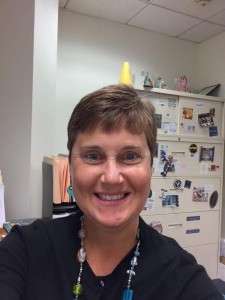 Lisa Ramsey, M.Ed
Associate Director, Student Engagement
lramsey@jcu.edu
Lisa Ramsey is in her 16th year at John Carroll and in her current role, Lisa is responsible for coordinating weekend engagement opportunities for the student body, including serving as the main advisor to the Student Government Executive and Programming Boards and coordinating the development and implementation of Late Night at Carroll community-building initiatives. She leads the divisional programming work group to promote collaboration and creativity in the community building initiatives offered by staff in the Division of Student Affairs.  Lisa earned her bachelors degree from Thiel College and her masters degree from Ohio University. You can often find her during her lunch hour either running or practicing yoga. In her free time she enjoys spending time with her husband, son, and 95 pound dog!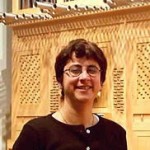 Cynthia A. Caporella, Ph.D.
Director Of Liturgical Music and Musical Arts
ccaporella@jcu.edu
Cynthia Anne Caporella, Ph.D., began her service to John Carroll University in August of 1994. In her current position as Director of Liturgical Music and Musical Arts she is responsible for music at all major liturgical functions and prayer services, directs the choral organizations at JCU, serves as advisor to the JCU Dance Ensemble, and supervises the JCU Band program. Cynthia holds a Doctorate of Philosophy in Musicology/Ethnomusicology, and Master of Music degrees in Vocal Coaching and Accompanying as well as Piano Performance. She regularly performs as a choral director, chamber musician and vocal accompanist in the Greater Cleveland area. Cynthia's article, entitled Jesuita non cantat: Evidence from the Inaugural Year of the Roman Church of the Gesù was published in the GIA Quarterly: a Liturgical Music Journal, in the Fall 2006 issue, volume 18, number 1. Her article "Heart to Heart: Music on the Jesuit Campus" is published in the journal Conversations and concerns music ministry in the context of college life. Cynthia can be reached in her office, Room #24 in the D.J. Lombardo Student Center at (216) 397-4721 or by e-mail at ccaporella@jcu.edu.


Janet Paradise
Administrative Assistant
jparadise@jcu.edu
Janet Paradise joined the Office of Student Engagement in February 2008 after spending 13 years at Management Recruiters International as a recruiter/project coordinator in the printing and graphic arts field. Prior to working for MRI, she worked at Dillard's (formerly Higbee's) in sales and management at the Beachwood and Downtown stores. She lives in Euclid with her husband, Nick. Her proudest accomplishment is that of being the mother of four boys, all of whom have been educated at Saint Ignatius High School. Janet will be glad to assist you with anything relating to the Office of Student Engagement, so feel free to stop by and say hi!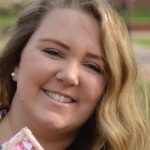 Cassidy Oliver
Graduate Assistant, Campus Programming
coliver21@jcu.edu
Cassidy is the Graduate Assistant who works with the Student Union Programming Board. Cassidy is starting her first year in the School Psychology program. She graduated from Ohio University with a degree in Psychology. At OU, Cassidy was a part of a service fraternity and served as service Vice President where she worked on coordinating and scheduling events with the community and members of the fraternity. In her free tome Cassidy enjoys camping with her family, hanging out with her friends, spending time with her dog, and of course watching Netflix. She is ecstatic about getting to work with students at JCU!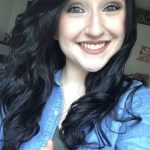 Hayle Fisher
Graduate Assistant, Organizational Support
hfisher20@jcu.edu
Hayle joined the Office of Student Engagement in August 2017 as the Graduate Assistant working with student organizations. She will be starting her first year at John Carroll in the Clinical Mental Health Counseling graduate program. Hayle graduated from Baldwin Wallace University in Spring 2017 with a degree in Psychology and a minor in Chemistry. During her undergraduate years, she involved herself in leadership positions within her sorority, independent research projects with faculty members, and worked for the campus' Community Outreach office. In her free time, Hayle enjoys volunteering, advocating for social justice, and exploring new places!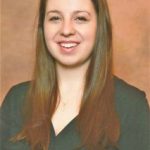 Elizabeth Poston
Graduate Assistant, Commuter & Transfer Services
eposton17@jcu.edu
Elizabeth joined the Office of Student Engagement in August 2017 after graduating from John Carroll with a degree in Psychology. During her undergraduate career, Elizabeth was involved on campus serving as an events coordinator for three years on the Student Union Programming Board, planning events such as Homecoming Weekend. Elizabeth is starting her first year in the School Counseling graduate program, and in her free time she enjoys reading, eating triple chocolate ice cream, and discovering and exploring new hiking trails.